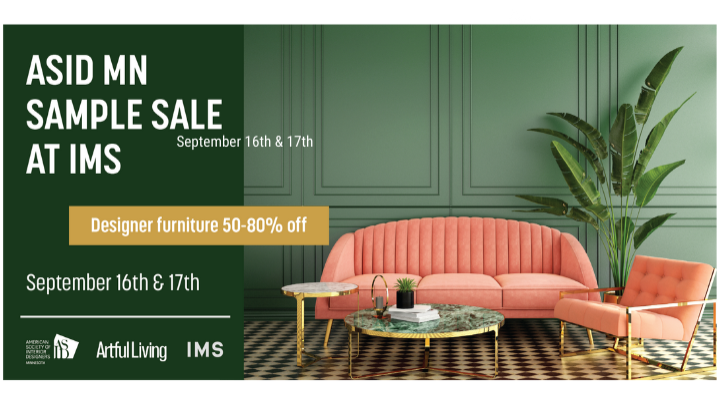 Description
Save the Date for ASID MN Sample Sale
ASID Minnesota's biggest sale of the year is back in the fall! Luxury home items, lighting, designer furniture and more are up to 80 percent off retail prices.
Open to the public. Free parking. Free admission. Credit cards only - no checks or cash accepted.
---
If you would like to participate in this year's sale as a vendor, here is some important information to know:
Requirements:
To participate in the Designer Marketplace on the 3rd floor of IMS, please contact ASID MN Administrator at administrator@mn.asid.org by Monday, Sept 5th to confirm your participation and approximately how many items you will have.
If you plan on participating in the Designer Marketplace and need more than ½ of an 8' table, please contact D'Amico to rent your own tables. We will have limited floor space for large items on the 3rd floor designated Designer Marketplace Area. For tables, please contact Ashley Peterson at D'Amico. apeterson@damico.com Phone: 612-238-4444
For Designer Marketplace participants: On the day of set-up, bring items to IMS – 3rd floor, east side of the building, along Lyndale Ave. This is the location for the Designer Marketplace.
All vendors

, your contracts and ST19s need to be filled out by Sept. 5th. All items must be completely tagged and priced prior to the start of the sale on Friday. Please email administrator@mn.asid.org for these forms. Sales slips can be picked up from the ASID MN office once you've submitted your contract.