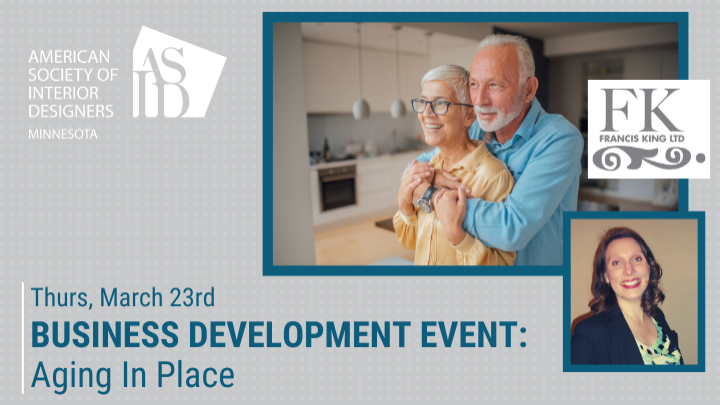 Business Development: Aging In Place
Description
Event Description:
How do you design a safe, functional and beautiful space for someone who wants to stay in their home and "Age in Place"?
As baby boomers continue to age, and life expectancy increases, the number of potential clients looking for this design skill will inevitably increase, so let's get ready!
Our design expert, Catherine Deutschlander, founder of CW Design, will explore this topic and share her wisdom. We will discuss how to proactively design a home that allows for a clients' changing needs. We will talk about new technology, guidelines, and ideas on how to create a space that incorporates safety, comfort and smart design.
Join us for an hour of information, discussion and insight.
Event Timeline:
10:00 AM - Check In Begins
10:30 AM - Presentation Begins
Presenter's Bio:
Catherine Deutschlander is a Certified Interior Designer (CID), Certified Aging in Place Specialist (CAPS), Accessibility Specialist through the state of Minnesota (MN-AS), and a Certified Kitchen & Bath Designer (CKBD). Catherine has 20+ years' experiences in residential and commercial interior design.
CW Design was created to bring beautiful, functional, accessible design to your lifestyle. Catherine's design services are based on empowering and collaboration with her clients. She listens and gives clients permission to like what they like. Making homes beautiful and functional is her passion.