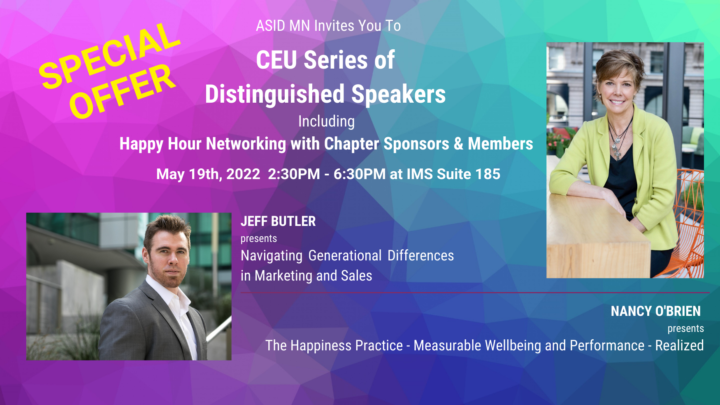 CEU Series of Distinguished Speakers
Description
ASID MN CEU Series of Distinguished Speakers
Come be inspired by these highly sought-after speakers while getting a chance to network and socialize with our Chapter Sponsors and other ASID members.
Bring an ASID +1 guest and be entered to win prizes!
SPECIAL OFFER: 50% off TICKET PRICE.
Enter code SPRING50 at checkout to take advantage of this discount now until May 16th.
Event Timeline:
2:30 PM: Check-In
3:00 PM: CEU #1 – How to Navigate Generational Differences in Marketing to Increase Business Click here for more information about presenter Jeff Butler.
4:30 PM: CEU #2 – The Happiness Practice: Strategies to Avoid Stress and Burnout in the Workplace Click here for more information about the presenter Nancy O'Brien
5:30 PM: Networking & Happy Hour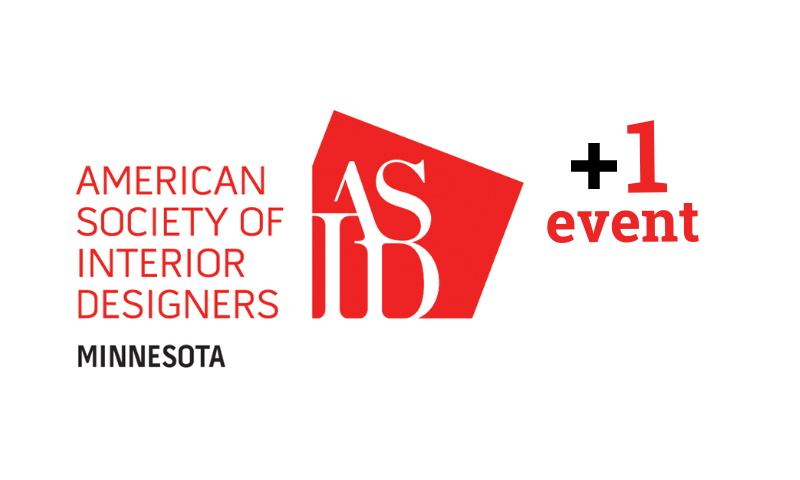 This is an ASID +1 event. Bring a guest and be entered into a drawing for prizes!
We have a limited number of discounted tickets (5) available to those who would like to bring a non-member guest interested in becoming an ASID member. This could be a previous member who might be inspired to rejoin, a vendor you work with, a student, or a fellow designer that we want to recruit into our network. Choose the ASID +1 ticket option and receive two tickets for $100. Limited number of ASID +1 tickets are available, so don't delay in signing up.
At the door the member and their ASID +1 guest will be entered into a drawing. Prizes include…
-$50 gift certificate sponsored by ProSource
-$25 gift certificate sponsored by Rubble Tile
ASID +1 Guests will have a 1 in 5 chance of winning!
If you have already signed up you are still eligible to add a guest to your invitation. Please contact administrator@mn.asid.org as soon as possible to take advantage of this offer.
We're very excited to announce the return of our CEU series of Distinguished Speakers! Please join us for an afternoon of learning and networking with two CEU's provided:
---
CEU #1 – Navigating Generational Differences in Marketing and Sales
In the age of rapid innovation, overcrowding platforms, and constantly shifting interests, marketers struggle to sell more than ever before, including interior designers. Many marketers are able to get their products in front of customers, but their target market simply does not buy. Why? Two reasons, generations constantly have changing interests and marketing messages more than ever now are templated and lack an authentic human touch.
Jeff Butler, the author of the Authentic Workplace, capitalizes on how authenticity is becoming the new unique selling proposition in the selling process. However, in order to leverage authenticity, one must know generational differences. In this program, he supports his view through compelling case studies and tangible examples extracted from the hundreds of organizations he has worked with. Each example helps attendees navigate generational differences and reveals what the most cutting-edge brands today do to make customers go from a 'maybe' to a 'yes!' These can be in the form of how to convey a more personal video to making marketing copy to unique forms of rapport building in direct sales. From this program you will learn tangible strategies on how to better market to the changing homeowner market by leveraging the authentic you.
About the Presenter Jeff Butler:
Internationally respected speaker and consultant, Jeff Butler helps bridge generational gaps between Millennials and companies looking for their talent and patronage.
Butler has quickly built his reputation as a memorable presenter with tangible solutions for attracting, retaining, and engaging Millennials as employees and customers. Within just the past three years, he has spoken at two TEDx events and multiple Fortune 500 companies like Google, Amazon, and LinkedIn.
Butler is a third-generational Silicon Valley entrepreneur and has founded three companies at the age of 27. He grew up in the era with the highest employee turnover rate in American history…a rate which shows no signs of reversal. As a computer science major at U.C. Berkeley, whose program was ranked second in the country, experienced the ongoing parade of companies and recruiters trying to woo him and his classmates.
Butler spent the first years of his career at some of the world's fastest-charging startups and tech companies before launching his consulting company in 2016. He is the author of two books The Authentic Workplace and The Key to the New You.
---
CEU #2 – The Happiness Practice, "Measurable wellbeing and performance – realized"
Wellbeing is the New Black.
Innovative leaders understand the powerful connection between wellbeing and performance and know that happy employees are key to cultivating loyal customers and building healthy cultures capable of attracting and retaining talent. Leaders also know that happy employees are more productive, produce higher sales, perform better in leadership positions, demonstrate sharper analytical abilities, receive higher performance ratings, and more.
Addressing the Key Barriers to Wellbeing.
Workplace wellbeing is a worthy goal, however, measurably propelling this goal requires addressing three keys, often overlooked barriers to achieving it:
Research shows that each of these barriers negatively impact emotional, behavioral and physical health and ultimately, impede wellbeing and performance (both human and business).
unhealthy stress

burnout

unhappiness
Welcome to THP. One Solution. Big Impact.
For over a decade, THP (The Happiness Practice) has helped thousands of people and organizations thrive by measurably increasing comprehensive wellbeing (emotional, behavioral and physical health) while simultaneously improving human and business performance (including KPI's). THP accomplishes this by effectively reducing stress and burnout, increasing happiness, and creating sustained competitive advantage through engaged, high-performing cultures.
About the Presenter Nancy O'Brien:
Nancy is passionate about researching, developing and sharing innovative tools to enhance and measure well-being. Prior to co-creating The Happiness Practice, Nancy spent years on the leading edge of massive innovation and change, serving on the IBM change team to transition the global business from manufacturing to services. She has also shared her deep experience design and management expertise with many clients by helping them develop and implement bespoke strategies.