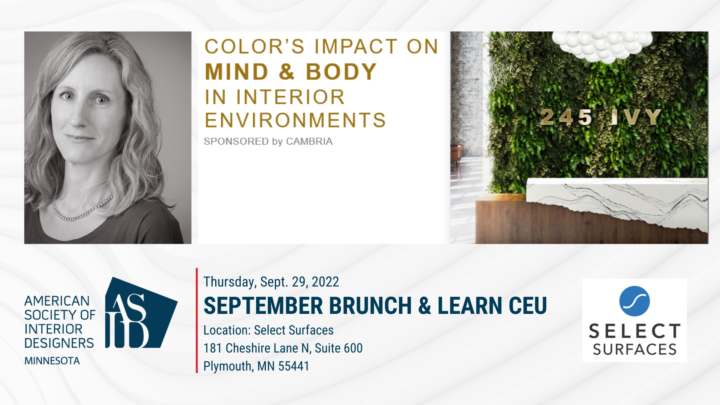 September Brunch & Learn CEU
Description
Color's Impact on Mind & Body in Interior Environments
Join ASID MN for the September Brunch & Learn and earn 1 Health, Safety, Welfare (HSW) CEU
At the end of this program, you will be able to recognize how the human eye perceives color and the three basic characteristics of color: hue, value, and chroma; describe how color meanings affect emotions both positively and negatively; recognize the significant psychological and physiological effect color can have and its use in design for healing environments, environments for the aging, and commercial and residential applications; and discuss the importance of age, gender, and culture in the perception and health impact of color in design.
About Presenter, Gena McCannon:
Gena graduated from the Art Institutes International with a B.S. in Interior Design in 2003. She has worked in kitchen and bath design, commercial furniture, residential furniture, and has been managing the Minneapolis Cambria Galleries for the past five years. Gena specializes in the role of trusted advisor to, and relationship facilitation between business partners and clients alike, as well as uplifting those around her through education, training, and inspiration.
Event Timeline:
9AM: Check-In Begins
9:30AM: Presentation Begins