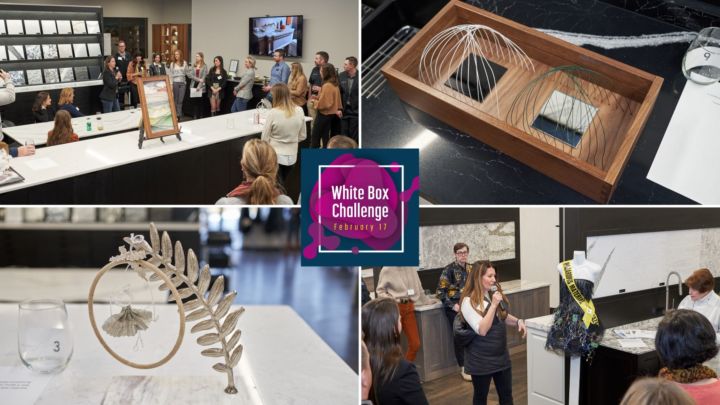 Description
Mark your calendars for the return of the ASID MN White Box Challenge! Practice thinking outside the box and participate in this creative event. You will receive a white box containing a mystery item which you must use, along with any other materials you like, to create a work of art from your own imagination. Participants will be judged by a panel of local celebrities in five different categories and winners will receive a gift card to a local health and wellness facility.
Register today. We only have 15 boxes available.
Ticket Price:
$20 Challenge Participant (includes 1 Viewing Party Ticket)
$20 Member Viewing Party Ticket
RULES FOR COMPETITION
1. Once you are registered, pick up your white box starting Thursday January 6th at the ASID office in IMS
2. Each white box will include the same "mystery" element that must be incorporated into the piece. Contestants must use part of this mystery item in their creation, though it is not required to use all of it.
3. Contestants must create and include an Artist's Statement with their creation. 50 words or less, and include your box number, as the judging is all done anonymously.
4. Contestant must deliver their creation to Cambria in IMS by 2:00pm the day of the event, Feb 17th. With questions, please contact Cathy Beckler at cbeckler@prosourcemn.com
5. The creations will be judged on the following categories: Best Use of Box Material, Most 'Out of the Box' Creation, Most Instagram Worthy, People's Choice, and Judge's Choice
6. The winning pieces will be displayed in the windows of the ASID office in IMS until April 1st and on ASID's social. Everyone else can take their piece back home with them or the committee will find a happy home for it.
7. Winners will be announced live at the event and will receive an award as well as a gift card.
8. Have fun and get creative!
Emcee:
Angela Warner - Warners Stellian
Judges
Sean Wagner - NewStudio Architecture
Katelyn Bloomquist - Midwest Home
Kat Larson - Student Rep to the ASID MN Board
Lisa Peck - LiLu Interiors
Drew Beson - Drew Beson Art Gallery + Studio