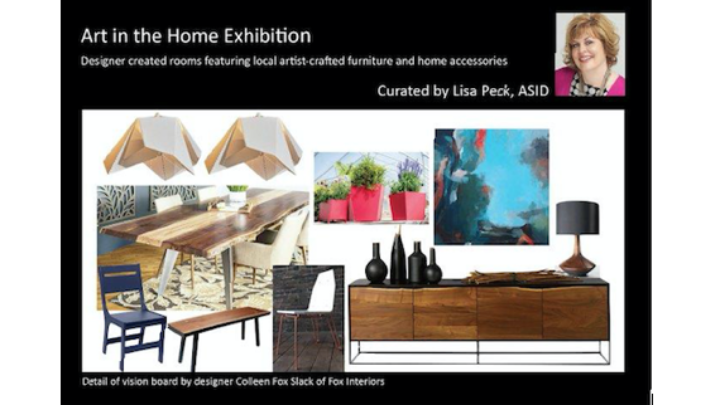 Art in the Home Exhibition
Description
February 16 – April 13, 2018
Panel Discussion: Tuesday, March 27, 7:00 p.m.
Top ASID designer Lisa Peck is curatoring her bieannieal exhibitaion "Art in the Home". Diverging from a typical Aristry exhibition, the Inez Greenberg Gallery will be transformed into five separate rooms decorated by local ASID interior designers using hand-crafted furniture and home accessories by some of the region's most talented artisans. Gallery visitors have a chance to vote for which desiger wins the Popular Choice Award and a $500 cash prize.
Participating Designers and Artists:

Colleen Fox Slack of Fox Interiors:
Artists: Brand ink, Brianne Boettner (Timber & Tulip), Angie Davis (byrd & belle), Chad Jerzak, Cynthia Kath, Loll Designs, Kelly Marshall, Scott McGlasson (Woodsport), Erin & Nate Moren (Tandem Made), Elizabeth Murphy (eli & ink), Francis Pineda-Fischer (Sandwich Ceramic), Monica Rudquist Dean Seaton, Heather Rae Tietz, Andrew Tinkham (Geeky Monkey Photos), James Wrayge

Sheree Vincent of Fusion Designed:
Artists: Julie Arthur (Wif-Man Weaving), Anna Bailey, Janella Fesenmaier, Lenore Lampi, Judy Lucas, Brandy and Heidi Lusk (Molu Market), Tru Melange, Moss Envy, Robinson Scott, Second Nature by Hand, John Wermerskirchen (Sand Creek Antler Products)

Martina Willegalle of Designs by Martina:
Artists: Jill Arnquist (BORD), Chris Bond, Kate Pearce, Lisa Peck (Sylvie & Mira), Hennepin Made

Jean Hoffmann of Chester-Hoffmann and Associates:
Artists: Lisa Arnold, Jeff Boutin , Cathy Bratter, Constructed Matter, Dave Ekdahl, Lisa Elias (Elias Metal Studio), Fay + Belle, Erin Francois, Goldfinch, Jella, Lenore Lampi, Erik Wyckoff

Christine Frisk of InUnison Design:
Artists: Blair Bender, Ute Bertog, Marlo Cronquist, Greg Dickerson, Ethan Hagenbuch, Lindsey Ries, Forrest Wasko, Sarah Wieben