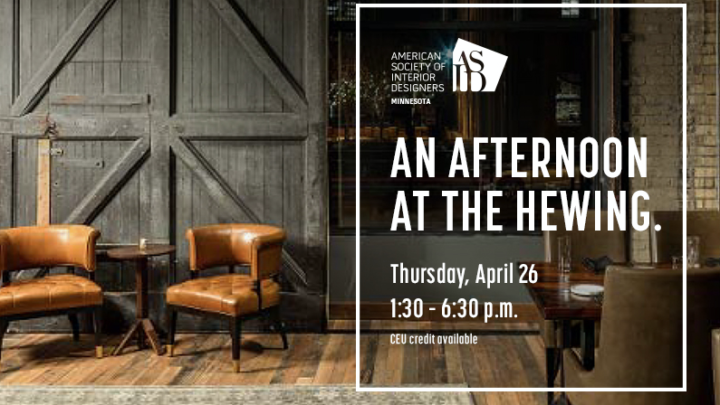 An Afternoon at the Hewing
Description
The programs and IP committees have joined forces to create a fantastic opportunity for you to hear two distinguished speakers (one being a CEU presentation) and attend a happy hour to mingle and network with other designers and industry partners. There will be table top vendors at the happy hour to promote how they can support designers on their projects. Tours of the amazing Hewing Hotel will be offered during happy hour.
Time Frame for Event:
Registration Begins: 1:30
Peg Kennedy (Motivational Speaker): 2-3
Lisa Cini (CEU: Aging in Place): 3:15-4:15
IP Happy Hour: 4:30-6:30
Speaker Information: Lisa Cini
,

ASID, IIDA
America's foremost authority on interior design of senior living facilities.
Lisa is an award-winning, internationally-recognized designer with more than 20 years experience developing the interiors of long term care centers. Her latest book, entitled: The Future is Here: Senior Living Reimagined," is due out this year, and she is writing a second book on the design of memory care facilities.
Lisa frequently speaks on topics ranging from Alzheimer and dementia care to technology at senior living industry conferences as well as general business forums. She has been published worldwide and is a monthly contributor to national senior living websites and magazines. Considered a visionary in her field, she is credited with developing repeatable, sustainable and durable designs that save her clients time and money because they can use them at all of their facilities.
Lisa has received a multitude of awards and honors for her design skills and business and leadership acumen, and has shared her senior living design expertise on the program "Today in America with Terry Bradshaw."
Her company, Mosaic Design Studio, is the nation's leading provider of design services for senior living, long term care and health care institutions. The company, which achieved an annual growth rate of nearly 150% over the past three years, is also active in global commercial design, project management and procurement. Mosaic has worked with such high profile clients as the National Hockey League, the U.S. Military, Brio Bravo Restaurants, PGA Tour Country Clubs and various hotels.
Lisa began accumulating her extraordinary insights into senior living design earlier career, when she served as a facilities planner for one of the nation's largest developers of assisted living centers. In that position she had the opportunity to "live with the design" by staying for days at a time with the residents of the facilities that she later redesigned.
She is active in a variety of public service and charitable organizations including those dedicated to creating leadership opportunities for women, protecting poor residents of developing countries, and helping families affected by childhood cancer.
Speaker Information: Peg Kennedy
With over 30 years in leadership development and supervision experience, Peg Kennedy is a consultant in personal and professional leadership development. She is a creative, passionate change agent in the development of inclusive, culturally responsive workplace environments. Her training specialties include Organizational Development, Supervision and Coaching, Cultural Competence, Generational Differences, Personal Power, Dealing with Difficult People, Youth Development and Woman's Leadership Development.
The majority of Peg Kennedy's career was an Associate Professor with the University of Minnesota Extension Services as a Community Leadership specialist. Peg also worked with the Blandin Foundation as the Regional Coordinator with the Center for Reducing Rural Violence. After a decade with Roseville Schools as the District Manager for Cultural Services and Targeted Services programs, she retired in 2013. Currently, her main job is grandmother, Master Trainer with DHS Child Welfare Training System and teaching graduate courses with St. Mary's University. Peg also operates a successful Wedding Alterations and Flowers business.
Peg has a M.Ed. degree in Education Policy and Administration and a M.Ed. Adult Education from the University of Minnesota. She graduated from St. Benedicts in Family and Consumer Science Education and MN State - Brainerd in Floral Design. She lives in Roseville with her husband, children and grandchildren.
Sponsors:
Crown Warehouse, KDR Showrooms, Rubble Tile, SPS Kitchen and Bath Showrooms, Purcell Quality,
Rabbit Creek,
Gabberts,
Scherping Westphal, &
Prosource